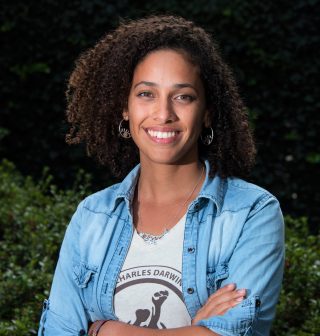 Salome Buglass (she/her)
Charles Darwin Foundation and PhD candidate at University of British Columbia
Salomé is a Project Scientist at the Charles Darwin Foundation (CDF), leading several research lines as part of the Seamount and Deep-sea Research Project. She is also a Ph.D. candidate and National Geographic Explorer. Salome has a background in biogeography with a strong focus on aquatic ecosystems and climate change and has worked on ocean and freshwater research and conservation projects in Trinidad and Tobago, Dominican Republic, Canada and Ecuador. Growing up many years in small island communities, when she moved to the Galapagos in 2016 to work as a marine ecologist, she instantly felt at home and fell in love with its marine environments. In 2017 Salome joined CDF's Seamount and Deep-sea Research team, and since, her research is focused on investigating marine communities found in darker, deeper and remote ocean spaces, which have largely remained a mystery to science to this day. Currently, Salome and her team are dedicated to assessing the biodiversity of deep-water macro-fauna and flora, and their distribution across Galapagos' Marine Reserve's complex bathymetry.

Since 2020 Salome has been pursuing a PhD, which she hopes will help her break through the glass ceiling to become a senior researcher or professor leading research programs in Latin America and the Caribbean. As an Afro-Caribbean Latina woman, she hopes to serve a role model to today's youth, who rarely see female scientists of colour heading exploratory research on the ocean's last frontier.
Learn more about Salome's research: https://geog.ubc.ca/news/uncovering-the-secrets-of-the-galapagos/
Cruises: