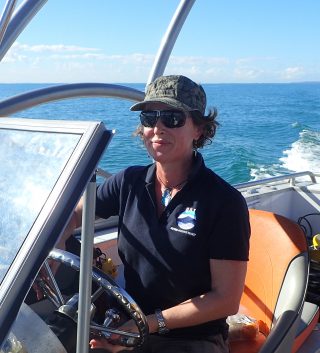 Mardi McNeil is a PhD Candidate at the School of Earth and Environmental Science at Queensland University of Technology, and is affiliated with the Geocoastal Research Group at The University of Sydney School of Geosciences.
Her interest is in cross-disciplinary research in Marine Geoscience, specifically biogenic carbonate sediments and structures at various scales from calcareous epiphytes on seagrass, to carbonate bioherms and reefs; their physical, chemical, and biological processes and their application in understanding past environments and current environmental change.
Mardi's current research is focused on the Holocene sedimentary deposition and geomorphology of Halimeda algal bioherms in the northern Great Barrier Reef, and their contribution to the development of the northeast Australian continental shelf carbonate factory. On the upcoming voyage Mardi will help collect and process geological sediment and rock samples from the Coral Sea reefs and canyons. Knowledge of the seascape's underlying geology will help inform the distribution and structure of habitats that support biodiversity.
Mardi sailed on Falkor previously as a Student Opportunties particpant during the Unravelling Ancient Sea Level Secrets expedition.
Cruises: