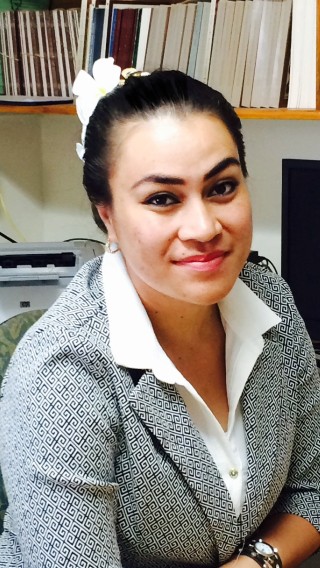 Cardinia Funganitao is a native Tongan. She attended the University of the South Pacific (Fiji & Vanuatu Campus) for undergraduate education She graduated with a Bachelor of Art majoring in Law and Geography. Part of her research experience, she undertook research on Kava Production (Livelihood of the people of Eua island) and research on the Agriculture Sector in Samoa, Fiji and Tonga. She has been an assistant teacher at Liahona High School and Pakilau Middle School from 2013-2014. In July 2014 she undertook an attachment agreement with Natural Resources Division of the Ministry of Lands & Natural Resources. During her attachment period, she took a short course training in Papua New Guinea, on Oceanography and mini ROVs building.
Cardinia joined Natural Resources Division – Ministry of Lands & Natural Resources in 2015 as an Assistant Geologist (her current position). She is responsible for coordinating and conducting field geological survey tasks, scientific investigations and participates in Offshore Scientific Surveys or Exploration. She also undertook two weeks placement work with Secretariat of the Pacific Community (SPC-Fiji) on Environmental Management of Deep Sea Minerals in 2015.
Her goal is to foster an environment that values diversity, employee development, and professionalism. She aims to pursue her interest in Environmental Law and she also aims to further her career in Law as it applies to Ocean & Environment. Apart from her career and education, Cardinia is interested in Polynesian dancing, playing netball and is trying to learn to play piano.
Cruises: