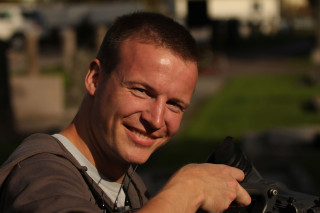 Having a passionate interest in filmproduction since his teenage years, Björn Kurtenbach started his career in 2004 by absolving a 3-year education at the national Broadcast Company NDR (Norddeutscher Rundfunk) in Hamburg, northern Germany. He finished his education summa cum laude as best in his class in northern Germany, as distinguished by the german Handelskammer.
Since 2007 he is working in the camera department for the NDR Broadcast Studio in Kiel. As he has been diving since 1997, he joined the Diving Camera-Team in 2007 as a scientific diver. Since early 2014 he is also working for the company as a professional drone pilot. His work at the company focusses on shooting mostly in scandinavia and the baltic states for the monthly TV-magazine "Ostseereport".
Besides his job at the Broadcast Studio, Björn founded his own filmbusiness in 2008 (kurtenbachfilm.de) where he works as a freelance cameraman and provides several services concerning film, such as 3D Animation, Compositing, Dronepiloting etc.
Cruises: