SOI Imagery in the Open
SOI licenses videos and pictures from ROV SuBastian at no cost for an impressive array of noncommercial or educational projects, from coffee table books to projections during concerts. Click through some examples below.
A new coffee table book, Ocean: Exploring the Marine World, by Phaidon Press is a 352-page illustrated timeline of the Ocean covering more than 3,000 years of history. The book includes a photo of a hydrothermal vent discovered on the 2019 Microbial Mysteries expedition on R/V Falkor among its selection of images from art, history, oceanography, marine biology, and culture.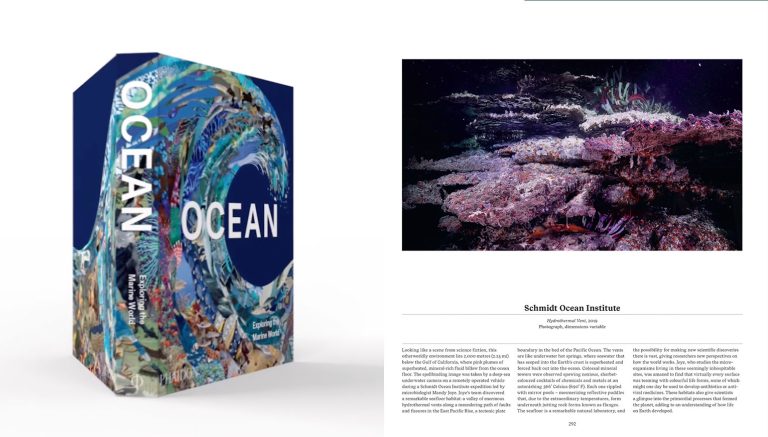 On September 3, 2022 SOI footage served as a backdrop for a concert titled Deep Sea Dreams at the Kunstverein Offenbach in Offenbach am Main, Germany. Contrabass and violone player Carsten Hundt (Lambda), known for his live improvisations to exhibit images and video, provided a velvety soundtrack to footage from SOI's 2017 Underwater Fire: Studying the Submarine Volcanoes of Tonga expedition. The concert also accompanied a concept exhibition of three artists with STEM backgrounds (Marlis Merbach, PhD, Maike Kreichgauer, and Dennis Merbach) focused on the connections between art and nature. Please enjoy part one and part two of this inspiring collaboration.

We invite you to share the newsletter with your friends and encourage them to subscribe, so they do not miss our first-look at Schmidt Ocean Institute's activities.
Fall Newsletter 2022 • Menu
Subscribe to our quarterly newsletter