On July 28th, after making her first passage through the Panama Canal, Schmidt Ocean Institute's 272-foot research vessel Falkor made its way beneath the Golden Gate Bridge and into San Francisco for the first time.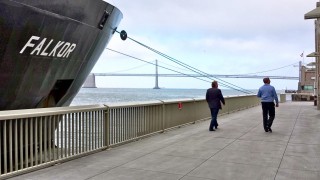 Schmidt Ocean Institute has no formal headquarters, with most efforts focused on Falkor. And with a mission that will keep her constantly moving around the globe, Falkor will have no official homeport. But SOI's founders, Wendy and Eric Schmidt, have numerous close ties to Northern California, and their Schmidt Family Foundation is based nearby in Palo Alto, so San Francisco will remain an honorary home of sorts for Falkor as its missions continue.
Falkor visited San Francisco at the invitation of the famed Exploratorium learning center, and docked alongside its elegant new facility at Pier 15 downtown. The Exploratorium graciously hosted SOI staff and Falkor crew, as well as over 150 guests at a reception on June 30. Bill Fisher, vice-chairman of the Exploratorium's board and a Forbes 400 member, and Dennis Bartels, the Exploratorium's executive director, offered welcoming remarks.
After mention of the 3 years it took from the time SOI purchased Falkor to completion of her complete overhaule, Bartels joked that that was five times faster than a government agency could have handled the task.
"We need visionaries like Eric and like Wendy and like the Schmidt Ocean Institute," Bartels said,  "to be able to move that quickly to get out there and find out what's going on, because…a lot of our biggest global issues facing us the next 50 to 100 years have to do exactly, precisely, with the water underneath our feet."
Wendy Schmidt, who has a long history of involvement in environmental and ocean issues, continued the health theme. "The oceans are in trouble," she said, "Why don't we just say it? We're basically destroying our own life support system and it's really because we just have not understood it."
Ms. Schmidt went on to describe Falkor's achievements to date during 2012 shakedown cruises and regular operations that began in 2013. "Our institute is a mobile one, and it's mission is to be out there," she said, "We want to be ranging across the oceans actively providing new kinds of information, pictures, discoveries, and interactions—all those kinds of things that networks, video and communications technologies make possible now."
Over 300 people toured Falkor at public and invitation events during her stay in San Francisco. Onboard the ship, visitors got to see the laboratories, remotely operated vehicle control systems, satellite dishes, and other Falkor resources that are making the Schmidts' vision possible.
On Aug. 1, Falkor left San Francisco en route to British Columbia for two expeditions in Canadian and U.S. waters (for information click here and here). From there she will make her way southwest for several months conducting oceanographic research in the Central and Western Pacific.
All the research the ship will support in coming years will share a common theme. "Falkor's biggest goal is to help change the public conversation about ocean health," said Ms. Schmidt at the Exploratorium, "We're living on a planet where we really don't even know most of what's here. So, we would like to say it's time that we did understand."