ECO Magazine ((Environment, Coastal, and Offshore), in collaboration with the Schmidt Ocean Institute (SOI) and the National Oceanography Centre (NOC), published its Deep Sea Special Issue. This latest installment in ECO's 2020 digital series is dedicated to Deep-Sea Research, highlighting the latest international research, groundbreaking expeditions, science and industry opportunities, and developments in innovative deep-sea robots, vehicles, and sensors.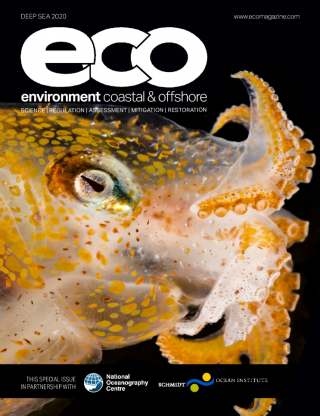 "Our Deep Sea Special Issue joins a series of unique digital editions in 2020 that offer the global research community a unique platform to celebrate scientific progress and identify opportunities for collaboration," said Kira Coley, ECO Magazine's senior editor. "For this issue, we are thrilled to be partnering with two leading institutes in deep-sea science, technology, and exploration."
"Most people don't think about the bottom of the ocean. When you look at a map, the ocean is portrayed as flat blue with very few features," said Schmidt Ocean Institute co-founder Wendy Schmidt. "However, this couldn't be further from what the ocean floor looks like. Picture huge mountains and canyons, exotic hydrothermal vent forests, and unique conditions that mimic other planets. There are still so many things we do not know about the topography or the ecosystems that cover the largest part of our earth."
The special issue featured an article written by staff members Amara Davis, Hannah Nolan, and Carlie Wiener on the mysteries of the Deep Sea and SOI's role in facilitating exploration and discovery. SOI Cofounder, Wendy Schmidt, was highlighted, and she discussed the impact that SOI's open and interdisciplinary approach has had on the accessibility and awareness of the Ocean. In this issue, the ECO community also nominated Deep Sea Heroes who have made "significant contribution(s) to deep-sea research, policy, and exploration." Among those heroes was Dr. Samantha (Mandy) Joye, whose work focuses on the interaction of large-scale ecological processes and microbes, and led the Microbial Mysteries: Linking Microbial Communities and Environmental Drivers expedition aboard Falkor in 2019.