SOI Holds Open Ocean Data Workshop: Credit where Credit is Due at Ditchley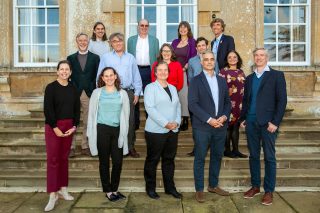 On October 6th and 7th of last year, SOI hosted the Credit where Credit is Due; Authorship of Open Ocean Data workshop at Ditchley Park in England. The discussion focused on identifying actionable solutions to shift values, merit, and authorship to better enable open data sharing in academia. A central principle that guides Schmidt Ocean Institute is the rapid and open sharing of scientific observations, data, and knowledge to stimulate the growth of data applications and amplify further ocean exploration, discovery, understanding, and management. The workshop gathered attendees from across Europe with expertise in publishing, academia, data sharing, and scientific funding to discuss how to best recognize and reward the dissemination of acquired data and knowledge – identifying and analyzing the challenges and solutions as data flows from academic collection point to data centers and publications, which feeds back into academic credit and funding. A report will be forthcoming this month that outlines tangible actions that can be taken by all sectors that touch the academic data pipeline.
SOI and R/V Falkor (too) at Oceanology International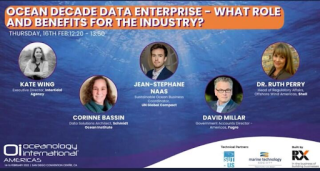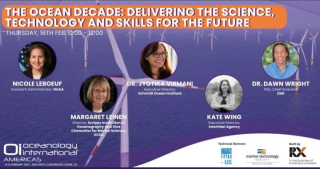 SOI participated in this year's Oceanology International Americas Conference, an event focused on connecting marine science communities with ocean technologists. Dr. Jyotika Virmani, Executive Director, was an invited speaker in The Ocean Decade: Delivering Science, Technology, and Skills for the Future. The panel was moderated by Nicole LeBoeuf from NOAA/National Ocean Service and discussed topics related to the delivery of the science, innovation, and skills required to unlock the future new blue economy. Corinne Bassin, Data Solutions Architect, was a panelist in the Ocean Decade Data Enterprise – What Role and Benefits for the Industry? The session focused on the challenges, opportunities, and benefits of increasing the accessibility of industry-held ocean data and was hosted by the UNESCO – Intergovernmental Oceanographic Commission.
SOI also hosted a reception for conference attendees, including vendors that had played an integral part in outfitting Falkor (too) for science services. Eric King, SOI's Senior Director of Operations, and Jyotika Virmani presented the technology and sensors that have been added to R/V Falkor (too) and future plans, including the 10-Year Expeditions Map.

We invite you to share the newsletter with your friends and encourage them to subscribe, so they do not miss our first-look at Schmidt Ocean Institute's activities.
Winter Newsletter 2023 • Menu
Subscribe to our quarterly newsletter