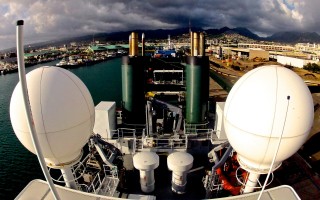 New Satellite Service Means Improved Research and Outreach
Satellite internet connections have become both common and essential for research vessels, but their use can involve challenges ranging from slow connections to insufficient satellite coverage in remote regions. In an effort to minimize such issues while maximizing research and outreach capabilities, Schmidt Ocean Institute has just upgraded Falkor's satellite system in ways that will benefit everyone working aboard the ship, as well as offering substantially improved video streaming capabilities.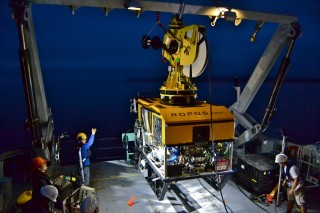 The key to this is that R/V Falkor has a new satellite internet provider. The company offers improved coverage in the areas where Falkor will be operating in the coming years, and it will also deliver substantially improved connection speeds—up to twice those previously used. Specifically, on expeditions where video or other large data transfers will be needed,Falkor will now be able to download via antennas housed in the ship's two prominent white satellite domes at speeds up to 1.024 megabytes, and upload at 512 kilobytes.
Another key improvement is that SOI will be able to send its remotely operated vehicle (ROV) or other video signals directly to shorebased encoders that will then process the video and forward it to YouTube for live broadcasts, chopping the previous broadcast delay in half. This benefit will come thanks to modification of a technique normally used to send television signals to customers. Using this system, ROV or other video can be sent out as a more compact signal, which substantially reduces the bandwidth needed. This improves delivery and frees up more bandwidth for other internet activities and improves transmission.
Better Together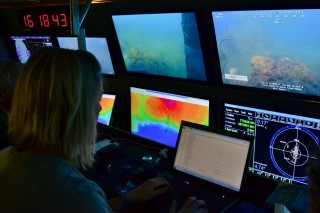 Adrian Tramalino, SOI's IT manager, is also working on another satellite solution that could mean even better bandwidth at lower costs. He has developed a plan for leasing an entire satellite transponder–the device on a satellite that receives signals from ships and then sends them to shore. As part of this plan, SOI is working to identify ships and organizations that will be working in the Pacific over the next couple of years, to share what would be a huge chunk of bandwidth. Such a lease arrangement would enable even higher upload and download rates aboard Falkor and other ships sharing the transponder, and would come at a much lower cost.
All told, the improved internet access offered by the upgraded system should greatly improve Falkor's research capabilities–and by making it easier to show the world what's happening at sea, its outreach capabilities as well.