Return of the Dragon: Falkor (too) 's Inaugural Expedition and Launch Campaign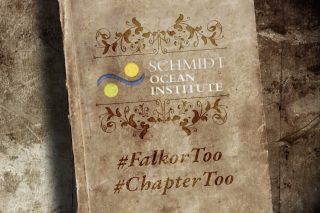 On March 3rd, our never-ending journey continued as R/V Falkor (too) set sail on its inaugural science expedition leaving Puerto Rico and heading to one of the world's most extensive underwater mountain chains—the Mid-Atlantic Ridge. The expedition is led by Dr. David Butterfield, alongside twenty-three scientists and students, including the first Falkor (too) Berth of Opportunity student, Marc Fontanez Ortiz. As the team explores sections of this underwater mountain range, they will search for lost city vents—ancient hydrothermal towers made of limestone that may provide insight into the conditions that facilitated the origin of life on our planet. The expedition marks the official science cruise launch of R/V Falkor (too), which SOI greeted with a ten-day social media countdown-to-launch campaign—The Next Chapter. The campaign included ten short videos highlighting Falkor (too)'s capabilities, the seven science topics we are focusing on as part of our strategic framework, and the official renaming of the vessel. If you missed them, there is a playlist for viewing them on our YouTube channel. 
Science Ahead: SOI Releases 10-Year Expeditions Map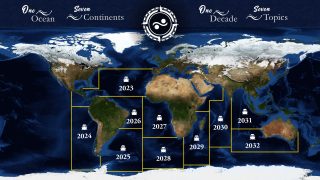 SOI released its 10-Year Expeditions Map in January, highlighting where the Institute and Research Vessel Falkor (too) will conduct science over the next ten years. SOI will work in waters around all seven continents focusing on one geographical region each year, exploring and answering critical questions about the Ocean as outlined in our strategic framework. Based on this decadal plan and seven topics in the strategic framework, SOI will accept proposal submissions for R/V Falkor (too) investigator-led science and technology projects on a rolling basis. We will aim to prioritize regional institutions and build community relationships in the regions where we will be working. 
SOI will announce its merit review process for proposals soon. The redesigned process, beginning with a call for Expressions of Interest (EOI), will allow collaborative, multidisciplinary research to be submitted at any time and for any location in alignment with the 10-Year Expeditions Map. Investigators may request Falkor (too)'s full science berthing allotment (up to 45 science berths) in an EOI or may, potentially, be partnered with additional projects at the full proposal stage to maximize the use of the vessel. Proposals will go through a merit review process conducted by the Institute twice per year.  Please take a moment to sign up for science and technology opportunities notifications.
SOI 2023 Virtual Symposium: Setting the Course
SOI's biennial virtual symposium, Setting the Course, will take place April 12-13, 2023, where we will update you on what is new at Schmidt Ocean Institute. In the style of a webinar series with a live Q&A discussion, each session will include an accompanying pre-recorded video that will be available by early April on the SOI website. Town hall-style question and answer sessions will be held with expert staff members during each live session. Please mark your calendars, watch the videos when available, and come ready with all your questions. If you sign up to receive notifications, you will get an email letting you know the videos are available for viewing. Alternatively, follow our Twitter and Facebook for updates. You will have the opportunity to submit questions ahead of time; the recorded Q&A sessions will be posted within a few weeks for anyone who was not able to  attend a live session. 
What's New at SOI

, with Executive Director, Dr. Jyotika Virmani

Welcome Aboard Research Vessel Falkor (too)

,

with Senior Director of Operations, Eric King

How to Apply for Ship-Time – Scientists & Technologies

, with Executive Director, Dr. Jyotika Virmani, and Science Program Senior Manager, Leonard Pace

How to Apply for Ship-Time – Berths of Opportunities & Artists-at-Sea

, with Director of Communications and Engagement Strategy, Dr. Carlie Wiener

How to Apply for Ship-to-Shores, with Expedition and Community Outreach Specialist Hannah Nolan


We invite you to share the newsletter with your friends and encourage them to subscribe, so they do not miss our first-look at Schmidt Ocean Institute's activities.
Winter Newsletter 2023 • Menu
Subscribe to our quarterly newsletter