MENLO PARK, Calif. – Schmidt Ocean Institute announced today it has acquired a new research vessel that will expand the organization's philanthropic science program and capability to explore the Ocean.
The new ship is significantly larger and can travel further than Schmidt Ocean Institute's existing research vessel, Falkor, which has been operating since 2012 and was the world's first year-round philanthropic research vessel made available for free to scientists.
The new vessel was purchased from GC Rieber Shipping ASA as the Polar Queen and was built in 2011 as an offshore industry vessel, used most recently to construct offshore wind farms in Europe. The new ship –re-named Falkor (too)— is 363 feet in length, compared to the 272-foot Falkor, built in 1980. The new vessel is also ice-rated and can cover more of the globe, extending Schmidt Ocean Institute's reach.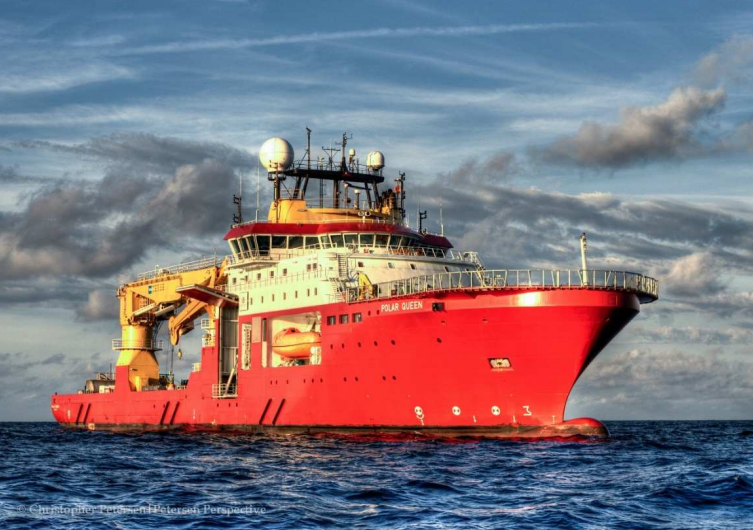 Over the past nine years, Falkor has mapped more than 1.25 million miles of the ocean floor, hosted more than 1,000 scientists on nearly 80 expeditions, and discovered countless new species and deep-sea bathymetry.
"We are excited as we look ahead to the next decade and beyond," said Wendy Schmidt, who co-founded Schmidt Ocean Institute with her husband Eric. "This new ship will build on Falkor's legacy, not only continuing but also expanding the remarkable discoveries and collaborative research made by Schmidt Ocean Institute and our science partners. With Falkor (too), we will be able to host more scientists, conduct more research and explore more of our Ocean as we seek to advance our understanding and protection of one of our planet's most valuable natural resources."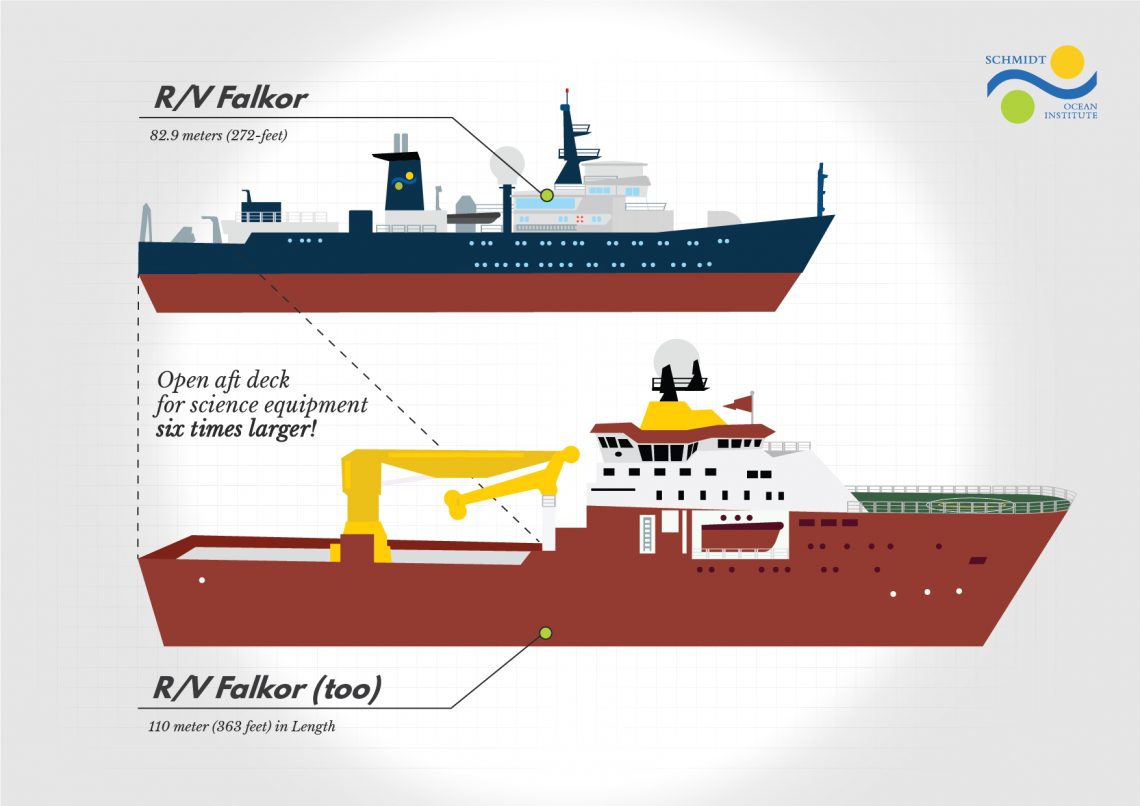 In the coming months, the new ship will be refitted in Spain with science capabilities and the most sophisticated maritime technologies. Schmidt Ocean Institute's current science program will continue until July, and Falkor will then join the new vessel in Spain. The refit of Falkor (too) is expected to be completed by early 2022, when it will resume the organization's science program.
"Falkor (too) will allow us to broaden our geographical range of operations and, with more than three times the interior capacity of Falkor and more than six times the deck space, this vessel will meet the research needs of scientists around the world for decades to come," said Jyotika Virmani, Schmidt Ocean Institute executive director. "With 80% of the seafloor still unmapped, we will be installing a complete suite of modern mapping capabilities as part of the refit. We will also be adding state-of-the-art scientific laboratories, a high-tech on-board mission control room for our ROV SuBastian, and facilities for artists that will greatly enhance both the research capabilities as well as our outreach and artist-at-sea program next year." 
Falkor was named after the Luckdragon from the 1978 German fantasy novel "The Neverending Story." In the spirit of continuing Schmidt Ocean Institute's work, the new vessel, Falkor (too), will carry on the name.
About the Organization
Schmidt Ocean Institute was established in 2009 by Eric and Wendy Schmidt to advance oceanographic research through the development of innovative technologies, open sharing of information, and broad communication about ocean health. It operates Falkor, the only year-round philanthropic research vessel in the world that is made available to the international science community at no cost. For more information, visit www.schmidtocean.org.
CONTACT:
Carlie Wiener
(808) 628-8666
cwiener@schmidtocean.org