The Maritime Foundation published the most recent installment of its annual magazine, Maritime 2020. This year's focus was on innovation. The issue highlights distinguished figures in the maritime and marine sectors that push the boundaries of what is possible and pioneer new frontiers in technology.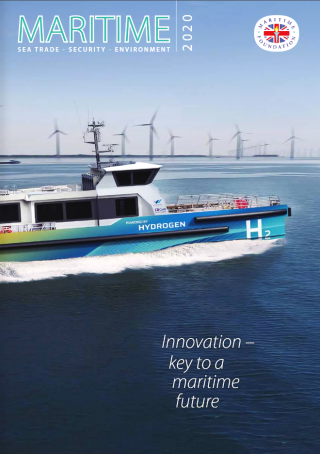 Jyotika Virmani and Carlie Wiener penned an article discussing the important discoveries being made in the deep sea using state of the art technology like ROV SuBastian and the Kongsberg EM 302 1×1 degree and Kongsberg EM 710 0.5×1 multi-beam echo sounders. Schmidt Ocean Institute collaborates with several organizations and institutes to promote cutting-edge research and fosters interdisciplinary studies with its Artist at Sea program.
Schmidt Ocean Institute was also honored at the Maritime Foundation's 25th annual Maritime Media Awards. These honors are extended to "journalists, authors, and others whose work in the media has served to create greater public understanding of maritime issues, and of Britain's manifold dependence on the sea." Schmidt Ocean Institute was awarded the Babcock International First Sea Lord's Award for Best Use of Digital Media "for its state-of-the-art website, which brings the life of the deep oceans, and the Institute's pioneering research and technological innovation, to the public."
Schmidt Ocean Institute will continue to explore and share the oceans in the new decade, beginning with mapping significant areas of the seafloor of the Tasman and Coral Seas, in partnership with The Nippon Foundation-GEBCO Seabed 2030, contributing to the global effort to map the entire seafloor by 2030.
Click here to watch the Maritime Media Awards 2020.