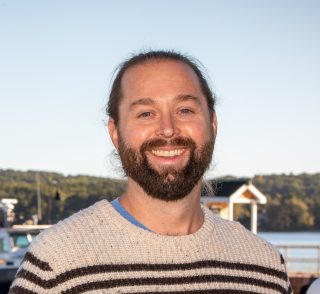 Tyler Smith, current Science Communications Intern, has led an itinerant life: journalism in the Midwest, academia in the Bayous of the Deep South, the nonprofit sector in the Sonoran Desert, and wine-making in the Pacific Northwest. Having made a full circuit around America, he's back in the Midwest to pursue a Bachelor of Science in Marine Technology at Northwestern Michigan College.
He earned a Bachelor of Arts from Illinois Wesleyan University, with a double major in Art and English. He followed that with a Master of Fine Arts in Creative Writing from Louisiana State University with a double thesis in Screenwriting and Poetry.  Discovering a passion for teaching, he embarked on a two-year Post-Doctoral Teaching Fellowship at LSU and also taught in the City Colleges of Chicago. His professional communications work ranges from copywriting to consulting on television projects to owning a multimedia production company.
Having now taken the plunge into Marine Technology, Tyler has hands-on experience deploying multiple sonar and ROV systems. In summer 2022, he completed an internship working for eTrac Inc. on a NOAA hydrographic survey off Cape Newenham, Alaska. During that month, it's probable that he was the only hydrographer on the Bering Sea with an advanced degree in poetry. When he's not busy studying sonar theory, data processing, or marine electronics, Tyler can be found in the NMC's ROV lab trying to resuscitate a defunct Seabotix LBV.