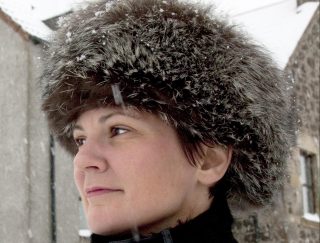 Internationally recognized Artist, Designer and educator Shona Kitchen has divided her time between creative practice and teaching. Her practice is frequently collaborative, research-based and site-specific. Her work spans public art, conceptual narrative proposals, book works, exhibitions and interactive sculpture/installation and design. Kitchen is currently an Associate Professor and Department Head in the Graduate department of Digital + Media, Rhode Island School of Design. She has a BA from Glasgow School of Art and a MA from Royal College of Art, London.
Using digital, analog, and biological elements, Kitchen creates work that allows physical and virtual, natural and artificial, and real and imagined elements to playfully and poetically co-exist. She explores the psychological, social and environmental consequences of technological advancement and failure. Her projects often function as imagined propositions, alternate or future histories that reveal and subvert the unseen technological forces in the world around us and expose our shifting role as creators, consumers and unwitting victims of technology.
Kitchen frequently collaborates with scientists, engineers, writers and software developers. Whether creating a surveillance system for a school of fish, or a tidal monitoring sign for a creek bed, she uses her work to pro- vocatively critique our relationship with the typically siloed natural and technological worlds and to speculate about what could be.
Kitchen has taught at Stanford's Institute for Creativity and the Arts, California College of the Arts, Art Center College of Design, and the Royal College of Art and has lectured at MIT Media Lab and Leonardo International Society for Art, Sciences and Technology, among others. She was a research fellow at the Royal College of Art in the Computer-Related Design Studio from 1997–2002. From 1997–2004 she had a successful interaction design practice as part of Kitchen Rogers Design, London. She has worked with clients such as Comme des Garçons, BMW, Science Museum (London) and Samsung. In 2013 she founded the Technological Landscapes Research Studio, a studio focused on art, technology, and emergent practices at Rhode Island School of Design.
She has lectured and exhibited internationally, such as the Victoria and Albert Museum (London), the Kelvingrove Museum (Glasgow), the Vitra Design Museum (Weil am Rhein) Montalvo Arts Center (Saratoga), Center for Contemporary Art (Warsaw), Zero1/ ISEA (San Jose). She has completed a number of public art projects at venues such as San Jose Mineta Airport; Kielder Castle, Northumberland; the Science Museum, London and Deptford Creek, London. Honors include an American for the Arts, Public Art Network in recognition of Dreaming FIDS at San Jose Airport, a RIBA (Royal Institute of British Architects) Award for The Minotaur maze, and a D&AD Silver Award.
Her accomplishments in the field of public art/interactive design have consistently been reported in major international media as well as specialty journals such as Public Art Review (USA), Brutus Casa (Japan), I-D (USA), Vogue Paris (France), Domus (Italy), Concorde in-flight magazine, USA Today (USA), FRAME (UK), Art 4d (Thailand), Blueprint (UK), WallPaper (UK), and others.
Cruises: