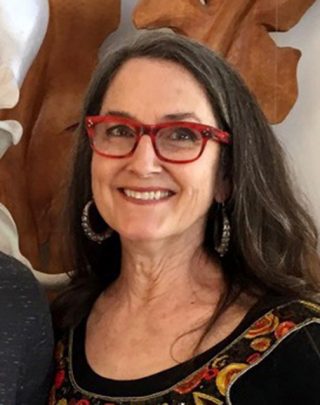 Rebecca Welti studied art at the University of Washington from 1977-1981, with a focus in metals. In addition, her study of NW Coast Native art exposed her to its complex designs and techniques, which informed her early carving style.
The following 30 years in remote SE Alaska, in an area rich with carving wood, gave her the materials and inspiration to focus on woodwork full time. She taught carving in the bush schools through the Alaska Arts Council and co -founded a cooperative gallery for which she created artwork.
For the last 4 years, and since relocating to Port Townsend, Washington, Rebecca has turned to the microscopic realm of plankton for her sculptural and educational woodwork. The diverse shapes and fascinating life cycles of plankton, as well as their vital importance to human survival, moves her to bring attention to issues and threats facing our ocean environments. By creating large-scale public sculpture and playfully engaging projects for plankton education, she demonstrates the urgency to champion these tiny heroes.
She has shown in many galleries and completed sculptural and functional commissions that reside in private collections worldwide.
Cruises: