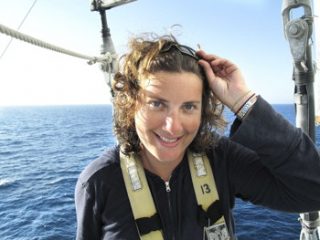 Randi Rotjan, PhD, is a Research Assistant Professor at Boston University in the Department of Biology and the BU Marine Program. Her research focuses mainly on marine  ecology, conservation biology, and global change.
Rotjan has been leading the science program for the Phoenix Islands Protected Area (PIPA) since 2010. PIPA is the worlds' largest and deepest UNESCO World Heritage Site, and serves as an important natural climate laboratory that is fully closed to all commercial extractive activities. Rotjan is the founder and co-Chair of the PIPA Scientific Advisory Committee, which supports the science needs of both the PIPA Trust and the PIPA Management Committee. She is also the co-Chief Scientist of the Phoenix Islands Protected Area Conservation Trust. Rotjan is also a Faculty Associate at the Boston University Frederick S. Pardee Center for the Study of the Longer-Range Future. She is a member of the Board of Directors for The Nature Conservancy – Caribbean, and was a recent finalist for a Pew Marine Fellowship.
Rotjan received her B.S. from Cornell University and her doctorate from the Biology Department at Tufts University. She then held a postdoctoral fellowship at Harvard University in the Department of Organismic and Evolutionary Biology. She then joined the Research Department at the New England Aquarium, where she ran a laboratory as an Associate Research Scientist for 8 years prior to joining the faculty at Boston University. She is a member of the W2O (Women Working for Oceans) and the Explorers Club, has been on the editorial board of 4 scientific journals, and has co-authored over 60 peer-reviewed papers and book chapters.
She was a member of the science team for Discovering Deep Sea Corals of the Phoenix Islands. 
Cruises: