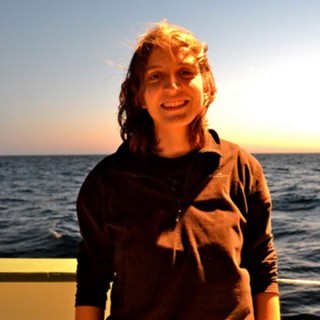 Myriam is a Ph.D student at Dalhousie University (Halifax, Canada) working under the supervision of Dr. Anna Metaxas in the Department of Oceanography. Her research focuses on the distribution of the animals living on the seafloor–in particular cold-water corals, sponges, anemones, brittle stars and seastars–in the deep waters of the eastern Gulf of Maine. Myriam is interested in testing whether variability in habitat features influences the distribution, abundance, and diversity of these biological communities. The Gulf of Maine harbours a rich biodiversity and is also an area of intense economic activity. More baseline knowledge on the deep biota is needed to adequately inform marine planning in the region.
Working with Anna Metaxas and Marjolaine Matabos (IFREMER), Myriam's interest during the R/V Falkor cruise is in the biota living on the seafloor of Barkley canyon. Video and photographic surveys there will lead to better understanding of how a lack of oxygen in the water and input of food from shallower waters (kelp) affect the distribution of organisms.
Originally from Montréal (Qc), Myriam pursued her undergraduate degree in biology at McGill University. Her undergraduate research work focused on the ecology of benthic invertebrates in a freshwater system, the St. Lawrence River. During that time, she participated in the annual groundfish survey by the Canadian Department of Fisheries and Ocean in the northern Gulf of St.Lawrence, which piqued hery interest in marine research.  This is her third expedition on an oceanographic research vessel, and hopefully not the last.
Cruises: