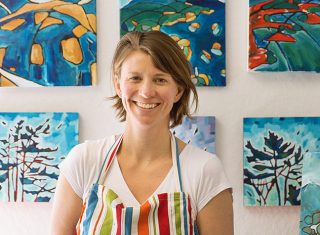 Molly is a visual artist, map-maker and geographer.  She discovered geography at Middlebury College and the power of map-making during a world-traveling Watson Fellowship upon graduation. She went on to receive a National Science Foundation Graduate Research Fellowship and Ph.D. in Human Geography from the University of Colorado, Boulder to explore the ways digital maps can communicate climate change impacts.  Molly has worked in environmental and art education for organizations, universities and schools across the country.  Her current projects involve map-making with children, conveying climate change through landscape painting, mapping the oceans, and custom maps for place-based organizations. 
Her maps has been featured in The Alpinist, The Middlebury Magazine, The Starbucks Digital Network and as an mapping intern at the The New York Times. 
Clients include: The Nature Conservancy, The American Mountain Guide Association, The World Wildlife Fund, and The Trust for Public Land.
Cruises: