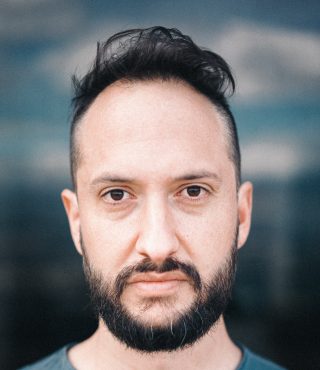 Misha Vallejo Prut ( Ecuador, 1985) is a visual artist and audio-visual storyteller whose work straddles the boundary between documentary and art. His main interests lie in the portrayal of the lost person and the lost place with a special emphasis on the banal everyday life within Latin America.
With an MA in Documentary Photography from the University of the Arts London, Misha has authored the photobooks "Al otro lado" (Editora Madalena, Sao Paulo 2016), "Siete punto Ocho" (RM, Barcelona 2018), and "Secreto Sarayaku" (RM, Barcelona 2020), which garnered several international awards across Latin America, the US, and Europe. Notably, his first interactive web documentary, secretsarayaku.net, has drawn over 15000 visits since its release in 2020. Besides, his work has also been published in such media such as The New York Times, The Washington Post, VICE, GEO, Marie Claire, and others.
His exhibitions have transcended borders, with notable presentations at the Biennial for Contemporary Photography (Germany, 2022), the PHOTO 2022 Festival for Photography (Australia, 2022), Rencontres de la Photographie in Arles (France, 2018), and the First Latin American Foto Festival at the Bronx Documentary Center in New York (USA, 2018).
In the moving image realm, he has worked as a videographer and editor with the UNHCR, UNICEF, and FACTSTORY in Latin America.
Among others, he has won the Dom Phillips grant from the Pulitzer Center (USA, 2023), The IDFA Bertha Fund (Netherlands, 2022), the Goethe Institut and Prince Claus Fund for Cultural and Artistic Response for Environmental Change (Germany & Netherlands, 2018), the Photo Europe Network Prize at the PhotOn Festival in Valencia (Spain, 2018), and the National Arts Prize Mariano Aguilera (Ecuador, 2015).
Currently, he is based in Ecuador and working on "Light Memories," his first feature documentary film as a director.
www.mishavallejo.com
Cruises: