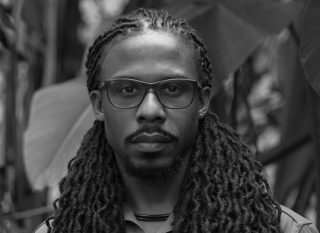 Kishan Munroe is a documentarian and multidisciplinary artist whose practice comprises painting, drawing, photography, film, installation art and engineering. Fortified by a framework of extensive historical analysis he uses his structures, documentary footage and the composition of visual commentary as catalysts for social consciousness of underexplored narratives.
Munroe, an avid explorer, frequently engages in anthropological expeditions, investigating histories steeped in conflict, their sociopolitical contexts and the interrogation of collective memory. These ventures are a continuation of an ambitious solo trek around the world entitled "The Universal Human Experience": a fact-finding mission examining the continuum of various human and environmental conflicts that have shaped contemporary cultures.
Munroe was educated at the Savannah College of Art and Design (BFA Painting and 3D Visual Effects, 2003, and MFA Painting, 2006). His major exhibitions include Relational Undercurrents (2017-2019), a survey of contemporary art from the Global Caribbean, which is presently touring in the USA, Arrivants: Art and Migration in the Anglophone Caribbean World (2018-2019), University of the West Indies, Barbados Museum and Historical Society, Barbados and his solo exhibition Swan Song of the Flamingo (2013), National Art Gallery of the Bahamas. His awards include the Bridget Jones Award for Cultural Studies, UK, the Bahamian Icon Award for Fine Art (Bahamas), National Endowment for the Performing Arts (Bahamas), The Governor's Choice Award (Bahamas) and the Combined Merit Fellowship at Savannah College of Art and Design (USA).