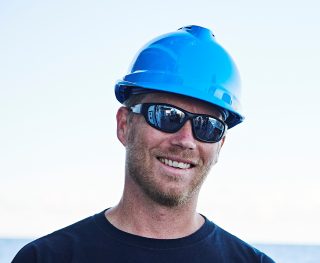 WilliamsJason has been involved with ROV development and design for over ten years, and brings a hands on engineering approach to the team.  As a Professional Engineer for the past 12 years, he has been the lead mechanical engineer on a number of exciting and successful projects.  Starting in 2004 he lead the Mechanical team at Triton Logging, to develop ROVs for harvesting trees in dammed reservoirs.  This required innovative designs for locating, cutting and retrieving trees up to two meters in diameter, in remote locations in Canada and Malaysia.
In 2009, Jason moved over to the ocean environment, and was involved with the installation of the world's first regional scale underwater ocean observatories: NEPTUNE Canada and the Oceans Observatory Initials.  He played an integral role in the NEPTUNE Canada project, from collaboration with scientists to design and build of scientific experiment platforms, to planning of offshore installation and maintenance cruises.
Jason's success as a project manager and designer for NEPTUNE Canada lead to his follow up role as Manager of Mechanical Systems for the Canadian Scientific Submersible Facility (CSSF).  At CSSF he was responsible for managing personnel and equipment for supporting the ROV ROPOS, including scientific exploration, subsea engineering, and deep sea equipment deployments. Jason's time at sea with CSSF, also gave him the opportunity to be trained as an ROV pilot, and was lead pilot on a number of missions.
Cruises: