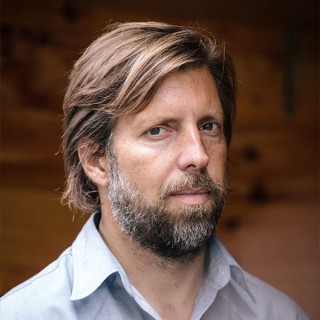 James Nestor has written for Outside Magazine, Men's Journal, Dwell Magazine, National Public Radio,The New York Times, The San Francisco Chronicle Magazine, and more. His science/adventure book, DEEP: Freediving, Renegade Science, and What the Ocean Tells Us about Ourselves (Houghton Mifflin Harcourt/Eamon Dolan Books) was released in the US and UK on June 24, 2014. Within two months of its hardcover debut, DEEP was a BBC Book of the Week, New York Times Editors' Choice, Amazon Best Book of the Month,Scientific American Recommended Read, The Week Book of the Week, Christian Science Monitor Top Book of July, iTunes Top Book of the Month, and more. The book follows clans of extreme athletes, adventurers, and scientists as they plumb the limits of the ocean's depths and uncover weird and wondrous new discoveries that, in many cases, redefine our understanding of the ocean and ourselves. In 2015, DEEP will be translated into German, Chinese, Portuguese, Italian, and more.
Nestor's longform piece for the boutique electronic publishing house, The Atavist, was released in December 2012. The piece, Half Safe: A Story of Love, Obsession, and History's Most Insane Around-the-world Adventuredocuments Ben Carlin's arduous decade-long, around-the-world journey on land and by sea in the same vehicle, the first and only circumnavigation of its kind ever attempted ― or completed.
An inveterate adventurer, Nestor joined a doomed surfing expedition to Norway and Russia for Outside Magazinein 2009, in which he and his team became the first to ride the breaks of the Arctic Circle. He has travelled extensively in Central America and the South Pacific, and lived for a short time with Vanuatuan yam farmers who worshipped the US Army. At home in San Francisco, Nestor lives in a house he rebuilt himself, runs his 1977 Mercedes 300D on used cooking oil, and occasionally risks his life picking up laundry in his Sebring-Vanguard CitiCar, the first-ever American-made production electric vehicle. Nestor works out of a closet-size office in the San Francisco Writers' Grotto. Follow Nestor at www.facebook.com/mrjamesnestor and @mrjamesnestor.
Cruises: