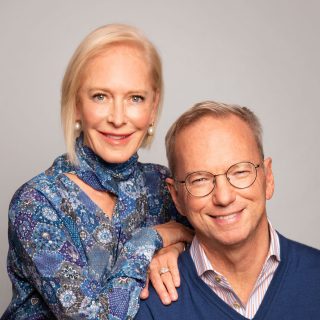 Eric Schmidt is an accomplished technologist, entrepreneur and philanthropist. As Google's chief executive officer, he pioneered Google's transformation from a Silicon Valley startup to a global leader in technology. He served as Google's CEO and chairman from 2001-2011, executive chairman from 2011-2018, and most recently as technical advisor. Under his leadership Google dramatically scaled its infrastructure and diversified its product offerings while maintaining a strong culture of innovation.
Eric currently serves on the boards of the Mayo Clinic and the Broad Institute, among others. He is a Gulfstream pilot, and his philanthropic efforts through The Schmidt Family Foundation and Schmidt Ocean Institute focus on climate change, including the support of ocean and marine life studies at sea, as well as education and cutting-edge research and technology in natural sciences and engineering.
Additionally, he is the co-founder of Schmidt Futures which helps exceptional people do more for others by applying science and technology thoughtfully and working together across fields. In 2019, Eric and his wife Wendy announced a new $1 billion philanthropic commitment to identify and support talent across disciplines and around the globe, beginning with the launch of Rise, a partnership with Schmidt Futures and the Rhodes Trust to increase opportunities for extraordinary young people and empower them to serve others. 
 A New York Times bestselling author, Eric is the co-author of The New Digital Age, How Google Works, and Trillion Dollar Coach: The Leadership Playbook of Silicon Valley's Bill Campbell.