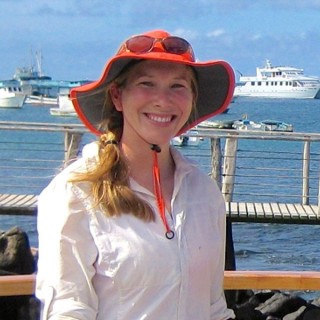 Chelsie Counsell is a first year Ph.D. student in Megan Donahue's lab at the Hawaii Institute of Marine Biology. Broadly, her research interests are in the ecology and spatial dynamics of marine communities with a focus on the predators and prey of reef fish. Her dissertation project is beginning to take shape and is focused on understanding patterns of diversity, connectivity, and species interactions within the reef metacommunities that live inside of cauliflower coral.
Chelsie received her Bachelors of Science degree from Elon University where she majored in biology and minored in chemistry. As part of her degree, she completed an honors thesis focused on Nassau grouper in the Turks and Caicos Islands. This work included a survey of the grouper population, a juvenile habitat enhancement project, and a literature review of the biology of Nassau grouper. During her undergraduate career, she also participated in sea turtle, lemon shark, and conch research projects in the Caribbean. During the summer of her sophomore year, Chelsie investigated the impacts of climate change on an intertidal snail through a combination of field, lab, and historical analyses at the University of California at Davis's marine lab in Bodega Bay.
Before she began graduate studies, Chelsie worked in South Caicos with the School for Field Studies as a research intern. There she assisted with studies of reef biodiversity, the natural markings on Nassau grouper, juvenile habitat enhancement for spiny lobster, lionfish diet, and an assessment of artificial reef habitat. She also worked at the Newfound Harbor Marine Institute in the Florida Keys as a science instructor leading snorkel and kayak trips in addition to marine based lab projects. This past summer, Chelsie earned her Masters of Science in ecology and evolution from Florida State University where she was advised by Felicia Coleman and Kevin Craig. Her Master's thesis investigated how the effects of areas of low oxygen in the northwestern Gulf of Mexico propagate up through the food web to higher trophic levels including dolphins and sharks. As part of this project she worked as a marine megafauna observer during aerial surveys of the Gulf of Mexico. While at Florida State University, she was also involved in other research projects including tropical reef assessments, goliath grouper projects, and trawl and benthic surveys of the Gulf of Mexico. She was also a science instructor with a middle school outreach program called Saturday at the Sea, which brought groups of students to the marine lab and into the field for a day.
On this cruise, Chelsie is looking forward to learning more about whale identification and acoustics.  She has been involved in a large variety of research projects, but has never participated in a research cruise before. She is very excited to be a part of this Falkor expedition!
Cruises: