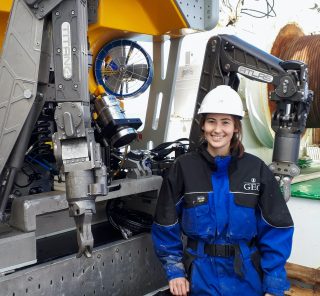 Caroline Gini is a PhD student in marine geology at Memorial University of Newfoundland, Canada. Coming from a land-locked country, she has always been fascinated by ocean exploration and seafloor geological processes. In 2016, for her M.Sc. project, she participated on her first research cruise to study lava flow morphologies at mid-ocean ridges using high-resolution mapping and imaging instruments on deep-sea vehicles.
Her current research focuses on geological characterization of the seafloor using Interferometric Synthetic Aperture Sonar (InSAS), an ultra-high-resolution underwater acoustic mapping and imaging technology, and on understanding the geochemistry of a vent field on the Mohns Ridge, in the Greenland Sea. During the cruise, she will be in charge of InSAS surveys, to explore the seafloor for active and inactive vents. 
She obtained her B.Sc. degree in Geology in 2015 from the University of Lausanne (Switzerland), with a semester abroad at the Universidad Complutense de Madrid (Spain), and her M.Sc. degree in 2017 from the Institut de Physique du Globe de Paris (France). She has also worked in a geotechnics company before starting her PhD.
Cruises: