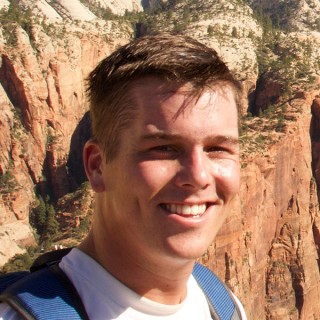 Blake Clark is a PhD student at the University of Maryland Center for Environmental Science, residing in Cambridge, MD and working out of Horn Point Laboratory.  Blake's graduate research focuses on biogeochemistry with a particular interest in dissolved organic matter processes in the coastal ocean.  He takes an integrative approach to characterizing biogeochemical processes with both modern three-dimensional modeling techniques and observational studies.
Blake will be working with the Santoro lab group on this cruise studying nitrogen cycles and microbial ecology in the equatorial Pacific. He hopes that experience gained on the ODZ cruise will expand his skill set in open ocean biogeochemical experiments and that he will contribute a potentially different perspective to the cruise goals.
Blake received his BS in Aquatic Biology from UC Santa Barbara in 2012.  He had two opportunities for open ocean research while a student at UCSB and after graduation, working with Dr. Craig Carlson's lab on both the SBDOM-2011 cruise and the CLIVAR-P2 2013 cruise.
Cruises: