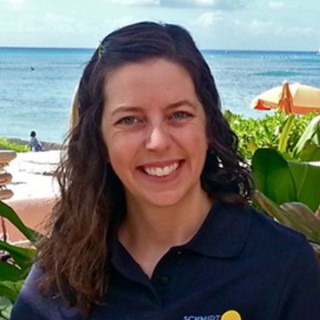 Allison Miller holds a bachelor's degree in Marine Science with a minor in Environmental Science from Coastal Carolina University, and a master of science degree in Oceanography from Florida State University.
Prior to joining Schmidt Ocean Institute, she was a program manager for the National Oceanographic Partnership Program at the Consortium for Ocean Leadership. There, she supported the Interagency Working Group on Ocean Partnerships and its subgroups, facilitating partnerships in a variety of ways.  She also managed the peer review process for funding opportunities that were created in partnership with federal agencies.  At Ocean Leadership, she was also involved in other programs, such as the Gulf of Mexico Research Initiative, the National Ocean Sciences Bowl, and the Ocean Sciences Educator's Retreat. In 2009, Allison dove in the Alvin off the coast of Costa Rica on a mission to service and maintain IODP's CORK observatories.  She has also served as science editor for the children's book "Ocean Hide and Seek," and is a member of The Oceanography Society.
Allison Miller joined Schmidt Ocean Institute in August 2013.  Her main duties include working with researchers following their cruise onboard R/V Falkor to help manage their data, make it publically available, and fulfill all post-cruise deliverable requirements, as well as working with external data management partners.