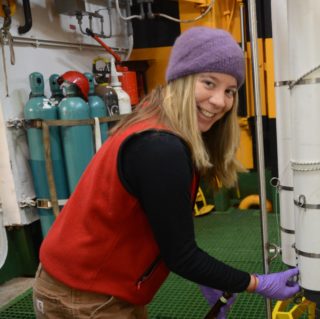 Aimee Neeley, a biological oceanographer, is member of the Field Support Group within the Ocean Ecology Laboratory at NASA Goddard Space Flight Center.  Her group is responsible for ground-truthing data products from ocean color satellites through the collection of biogeochemical samples and optical profiles during field campaigns.  Her research focuses include understanding phytoplankton physiology and dynamics in the Pacific Arctic Region, the detection of phytoplankton types from space and the development of community-wide protocols for various types of water column optical data collection and synthesis.  She recently led a community-working group to develop updated protocols for the measurement of particle absorbance on a filter pad.
Aimee received her B.S. and M.S. degrees in Marine Biology from the College of Charleston, South Carolina. She is currently pursuing a PhD in Biological Oceanography from the Marine Estuarine Environmental Sciences program at the University of Maryland. Over the past 14 years, Aimee has participated in numerous oceanographic field campaigns, traveling as far north as the Chukchi Sea and as far south as the Southern Ocean. Her time spent at Palmer Station, Antarctica was one of the most amazing experiences of her life.
Aimee's interests on this cruise include the detection and enumeration of phytoplankton taxonomy data using a FlowCAM and standard flow cytometer.  She will also be measuring in vivo and filter pad total particle and phytoplankton absorption using a spectrophotometer.
Cruises: