SOI partners with The Ocean Census Alliance and takes part in global launch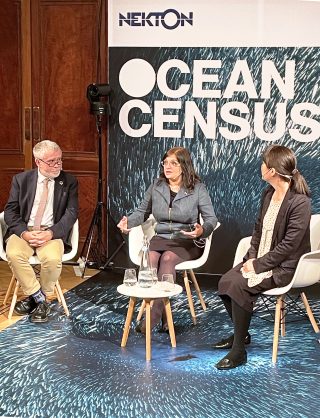 The Ocean Census, the largest program in the world's history aimed at discovering life in our Ocean, was unveiled this April in London. SOI is a partner of The Nippon Foundation – Nekton Ocean Census, a global collaborative program that has an ambitious target of identifying at least 100,000 new marine species in its first decade. SOI's Executive Director, Dr. Jyotika Virmani, participated in the launch event, which was broadcast globally. Founded by The Nippon Foundation and Nekton, the project's headquarters are at the Oxford University Museum of Natural History, which houses the first Ocean Census Biodiversity Center. Species discovered on expeditions can be sent for high-resolution imaging and DNA sequencing to a network of Ocean Census Biodiversity Centers that will be established in nations around the world. The aggregated, open-sourced species data will be added to a network of data centers globally and made freely accessible to scientists, decision-makers, and the public. Read the full press announcement here.
We invite you to share the newsletter with your friends and encourage them to subscribe, so they do not miss our first look at Schmidt Ocean Institute's activities.
Chapter 4 Newsletter – 2023 • Menu
Subscribe to our quarterly newsletter