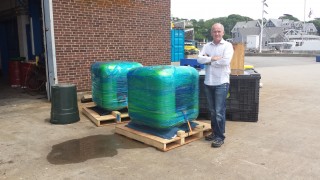 Sending a 225-kilogram (500-pound) instrumented lander to even the deepest portions of the ocean is easy.
The challenge is getting it back safely, a feat that requires substantial and reliable buoyancy. To overcome the limitations of conventional deep-sea buoyancy solutions, Schmidt Ocean Institute's collaborative lander project with the Woods Hole Oceanographic Institution depends on a high-tech foam that has already proven itself capable of handling one of the world's most extreme environments.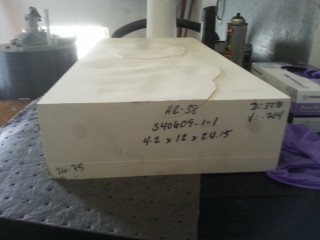 When building deep-sea equipment such as landers, engineers have traditionally relied on large, spherical glass floats to provide the buoyancy needed to return systems to the surface after the triggered release of weights. But these floats can fail, particularly with repeated use, and when they do the resulting implosion can cause major damages and even prevent retrieval. As pressure increases with depth, so does the threat. At the Challenger Deep, the ocean's deepest known spot and one of the targets for SOI collaborative research this year, pressure reaches almost 16,000 pounds per square inch—the equivalent of balancing three SUVs on a toe.
It's All About the Foam
To avoid the limitations of conventional glass spheres, the SOI landers will get their buoyancy from a specialized foam created by Engineered Syntactic Systems (ESS) originally for the DEEPSEA CHALLENGER submersible that explorer and director James Cameron used to reach the Challenger Deep in 2012.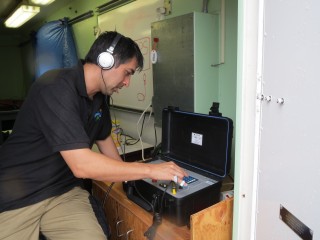 The foam is a composite made of tiny, hollow glass microspheres embedded in an epoxy resin. This material has proven remarkably reliable during trials in a pressure chamber that recreates pressures at depth. The spheres range in size from 10 to 100 microns—so tiny that you need a microscope to see them. More importantly, they are so small that if a few implode they don't cause significant damage.
The ESS foam is also very compact, with one cubic meter providing almost a thousand kilograms of lift (1 cubic foot=42 pounds of lift), meaning a relatively small cube will be sufficient to carry an SOI lander to the surface. That's compared to the long strings of glass spheres encased in yellow plastic housings traditionally used for equipment retrieval. To make each SOI lander easy to spot, and to protect against damages, each foam cube is painted with two layers of a thin, bright green urethane coating.
A First in Schmidt Ocean Institute's Deep-sea Suite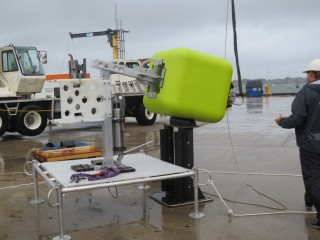 While the SOI landers can work at any depth, they are designed mainly for deployment in the 6,000 to 11,000-meter range known as the hadal zone. This includes 37 trenches worldwide and certain abyssal plains—collectively one of the least explored realms on the planet. The landers are the first in a suite of technologies that SOI is building with WHOI to push hadal zone research forward that will also include a next generation the hybrid remotely operated vehicle N11K.
The landers went from concept to reality in just five short months. Both will be ready for the November expedition to the Mariana Trench led by Dr. Jeff Drazen at the University of Hawaii, which will involve work at the Sirena Deep, the second deepest known spot in the ocean. Equipment to be deployed on the landers includes baited traps, cameras, lights, a rock grab, and respirometers—devices that measure the oxygen consumption in a section of seafloor as a gauge of biological activity.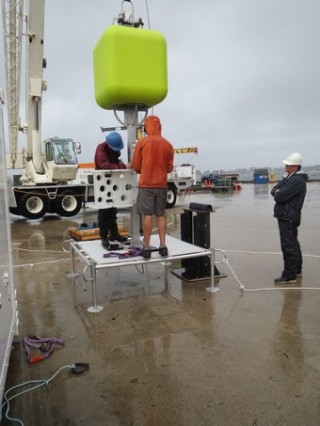 The development of Schmidt Ocean Institute's suite of hadal zone research resources comes at a critical time when access to these depths is especially limited, while the potential for major advancements is high. SOI is optimistic about its growing ability to provide researchers with unprecedented capabilities that will foster innovative and otherwise impossible hadal zone research and offer new opportunities for open sharing of the knowledge gained.